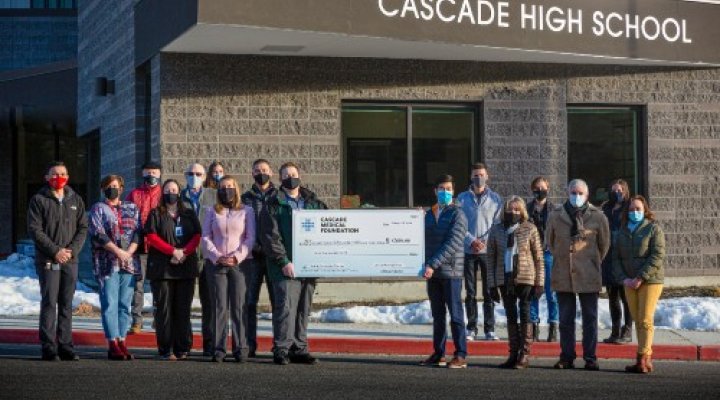 Cascade Medical Foundation (CMF) applied for and received a Community Health Initiatives grant for Cascade Medical (CM) and Cascade School District (CSD) to collaborate on suicide prevention training. The $7000 will enable staff from CM and CSD to take train-the-trainer workshops and develop more comprehensive suicide prevention curriculum and resources for students, staff and parents.
 On a sunny winter day, representatives from CMF, CM and CSD gathered outside Cascade High School for a presentation of the check.
 Front row, from left, Rudy Joya, CHS assistant principal, Shelly Zehm, school nurse, Kesha Smith, school nurse, Tracey Beckendorf-Edou, CSD superintendent, Trey Ising, school board chair, Dr. Maxwell Moholy, CM clinical psychologist, Kathy Montgomery, CMF board member, Mogens Bach, CMF board member, Aisha Houghton, CM clinical social worker.
Back row, Brett Johnson, special education director, Brooks Murphy, CHS intervention specialist, Katie Schmitten, CHS career counselor, Elia Ala'ilima-Daley, CHS principal, Tyler Cox, school psychologist, Dani Steele, IRMS counselor, Ashley Bartanen, CHS counselor.