Jive Time in the Cascades

When: Sunday, Sept. 17, 2023

Where: Snowy Owl Theater at  
Icicle Creek Center for the Arts

Tickets: $40 for concert or $65 for concert with pre-event social 

featuring gourmet charcuterie table. Available at icicle.org.

Doors open at 6 p.m. Pre-concert social starts at 4:30 p.m. 

PLEASE NOTE: Pre-concert social tickets must be purchased by Sept. 12. 

Concert tickets available through Sept. 17.
Join us Sunday, Sept. 17, at the beautiful Snowy Owl Theater for a night of tempting, toe-tapping tunes and jaunty jazz!  
Cascade Medical Foundation's fundraising concert, sponsored this year by Kahler Mountain Club, features The Wenatchee Big Band, a community-based 20-piece ensemble playing big band swing and jazz standards. They'll be playing two sets, full of the favorites.
In addition to enjoying great music, look for the Buy It Now Board, with deals on gift cards and gift packages donated by local businesses. 
Doors open at 6 p.m., with the music starting at 6:30.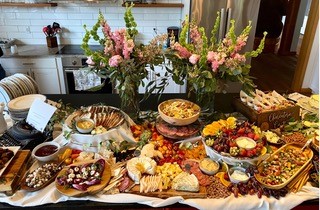 Concert-goers can make a full evening of it at a pre-concert social from 4:30 to 6 p.m. featuring a gourmet charcuterie table by Modern Mountain Creations, packed with meats, cheeses, nuts, fresh fruits and so much more. 
The "grazing table" is sponsored by Cascade Veterinary Clinics. 
For ticket details, go to icicle.org. PLEASE NOTE: The cut-off date for the pre-social tickets is Tuesday, Sept. 12.
Jive Time in the Cascades is one more way the Foundation brings the community together while supporting its fundraising mission. For information go to cascademedicalfoundation.org.
Additional concert event sponsorship opportunities are available. For information, call Cascade Medical Foundation at 509-548-2523 or email foundation@cascademedical.org.
Proceeds from this event will go toward our next campaign to support the needs of Cascade Medical. We recently reached our goal to fund a new cardiac rehab center. Details on the next project will be announced at the concert.