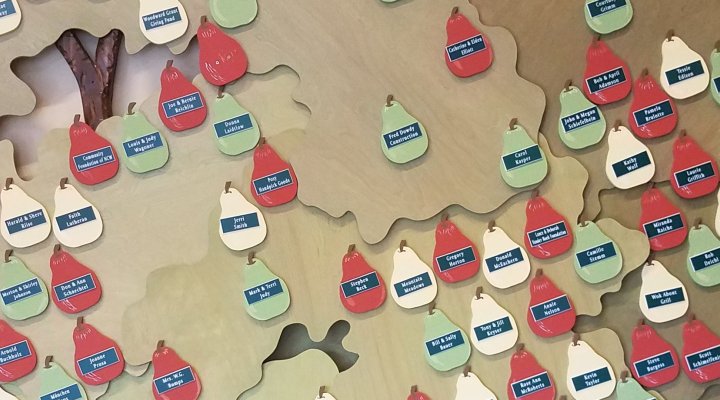 New crop of donors recognized
Twenty-two names were added this fall to The Orchard of Giving, which graces Cascade Medical Clinic's lobby wall. Donors listed on the orchard's apple and pear trees have given more than $250 to Cascade Medical Foundation in their lifetime.
This year's crop includes several Cascade Medical employees who give to the Foundation with each paycheck. Others include a Foundation board member and generous community members, businesses and organizations. We are so grateful for all the support.
Here are the latest additions:
William & Bettye Ham
Sabine Kaul-Connolly
Carol Kasper
Tessie Edison
Joey O'Reilly
Oasis Avina Diaz
Courtney Grimm
Kathleen Koskella
JoAnne Ericksen
Donna Laidtlow
Rebecca Schiefelbein
DonnaRae Holloway
Larch
Washington State Hospital Association
Woodward Grant Giving Fund
509 Spirits LLC
Yodelin Broth Co.
Plain Cellars
Leavenworth Cafe Roasters
Taffy Shop
Kissler Family Foundation
Capstone Community Chest
All Orchard of Giving names (and their locations) are listed in a notebook in the lobby. The next time you're in the clinic waiting room, see how many names you recognize!